GTM Alliance | Community Newsletter
December 1, 2023
🔥Fresh content 🔥
Be careful, it's hot. We've got brand new content for you over on the blog. Get up to date on trending topics in your industry and get unparalleled insights into Go-to-Market.

Check out our top picks here:
Members-only content
Still haven't downloaded a copy of our first-ever Salary Report? Get it today and look through some fascinating insights gathered from over 100+ GTM experts.
Need an outlet for your Go-to-Market passion? Click to find out how to contribute.
---
🎉 Events & meetups 🎉
Want to be part of our events or connect with GTM pros outside of our Slack space? Get in touch with Emma to find out how.
The goal of our meetups is to connect our community members outside of our Slack space. Meetups allow members (that's you) to network, collaborate, and have a pulse on their local network. We welcome professionals at all stages of their career.

Find out more!
Want to start a virtual event or in person meet up with this community? Get in touch with Emma to start one! 🚀
---
💬 Topics of conversation 💬
In the community Slack this week we covered topics on:
@Sahith Krishna is looking for suggestions of channels to use for paid campaigns, other than LinkedIn. Share your tips.
@Hannah Sangwin is asking: In the B2B sector, how can companies effectively identify and target their ideal customer profiles during GTM planning? Share your advice.
@Emi Kwasniewska is asking: Are there training or development opportunities that you think would help in building a more collaborative GTM team culture? Share your thoughts.
And many more…
Head over to the #questions channel for more!
---
📚Courses 📚
In today's fast-paced market, innovation isn't just a buzzword—it's a necessity. And in GTM, crafting a strategy that's both agile and robust is paramount.
But what does it truly mean to innovate as a GTM leader?
It means going above and beyond: embracing new tactics, staying ahead of market shifts, and understanding your competition inside out.
Go ahead and find out how you can easily do that with the GTM Blueprint.
---
🎧 Podcasts 🎧
GTM-FM
Join us as we get up close and personal with guests from across the C-suite and leadership to uncover their secrets for Go-to-Market success

Listen to the latest episode here

Ready, Set, Go-to-Market
We're here to help organisations get to market - better. With an unmissable weekly episode, tap into the brains of GTM leaders and strategists worldwide and expedite your go-to-market journey.

Listen to the latest episode here
---
💬 Member Quote of the Week 💬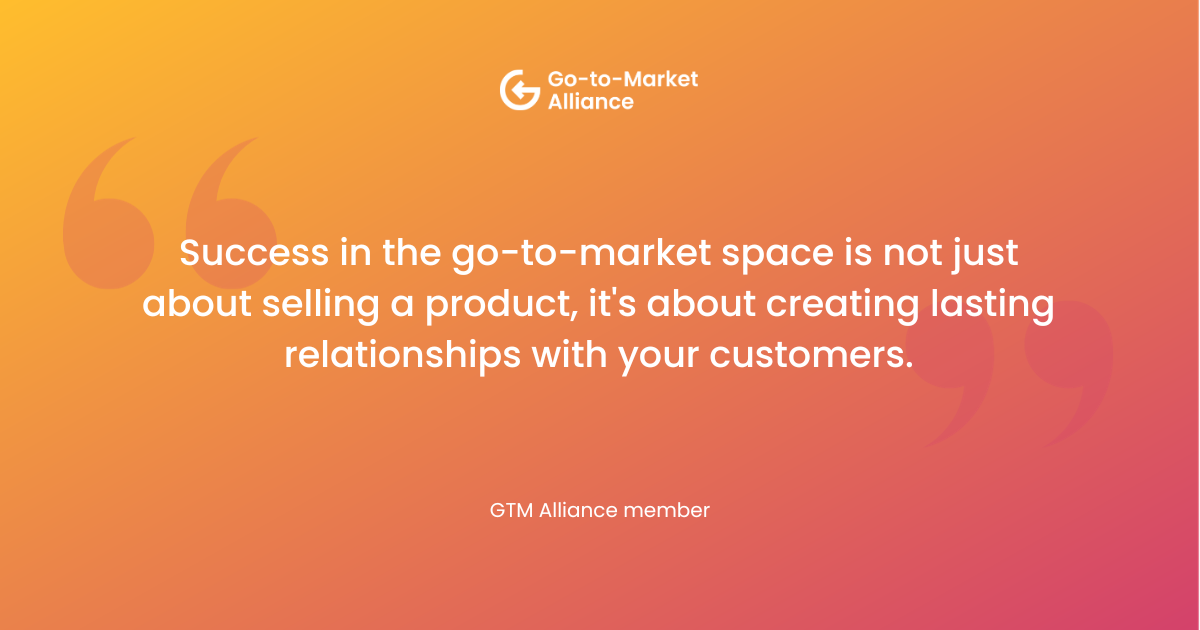 ---
⭐Your feedback fuels us ⭐
We thrive on your feedback, so don't hesitate to let us know how we're doing!
Leave your feedback and suggestions on Trustpilot.
---
That's a wrap for this week's newsletter - catch you next week 🎉
---