The time is now! We reached out to the Go-to-Market Alliance community to highlight their heroes and nominate the GTM pros, teams, and companies that deserve to be recognized for the amazing work they do! 💪
Nominations came in fast and selecting our winners wasn't easy. So, without further ado, let's showcase those superstars and inspiring organizations that are setting themselves apart and going above and beyond in go-to-market... 🥇
---
GTM Team of the Year Winner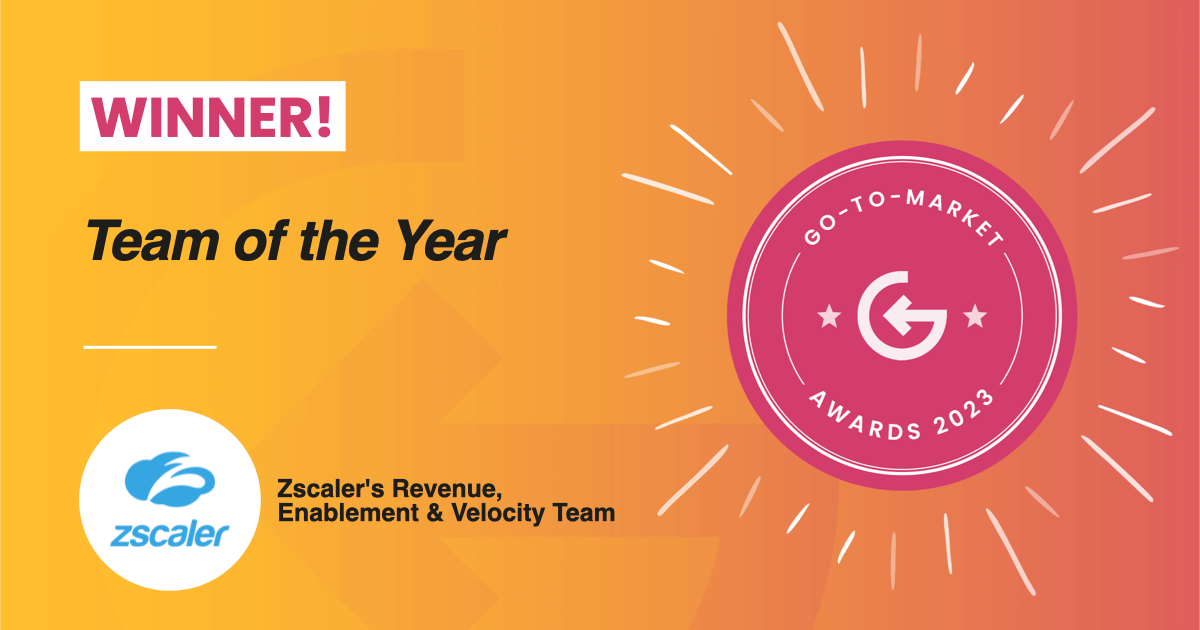 Zscaler REV team

The Zscaler REV team plays a crucial role in driving revenue growth and optimizing GTM strategies. Since winning the SEC Team of the Year award last year, they've only continued innovating, growing, and having a profound impact on the entire organization.
The team has a direct impact on revenue growth, has accelerated sales cycles, increased and improved customer engagement, and improved sales effectiveness.
To name but a few things the team has recently achieved - they've shortened ramp time, improved metrics for time to first deal, increased visible opp, decreased attrition, decreased customer attrition, increased % of ICs promoted to management and more.
"The REV team is mighty - we continue to turn up and deliver, despite internal challenges. This team is passionate, enthusiastic, and DELIVERS on our promises... we are also the best damn humans to work with!"
Whitney Perry, Manager of GTM Strategy and Programs at Zscaler
A huge GTMA congratulations to the Zscaler REV team for scooping this awesome accolade!
Special mention in this category: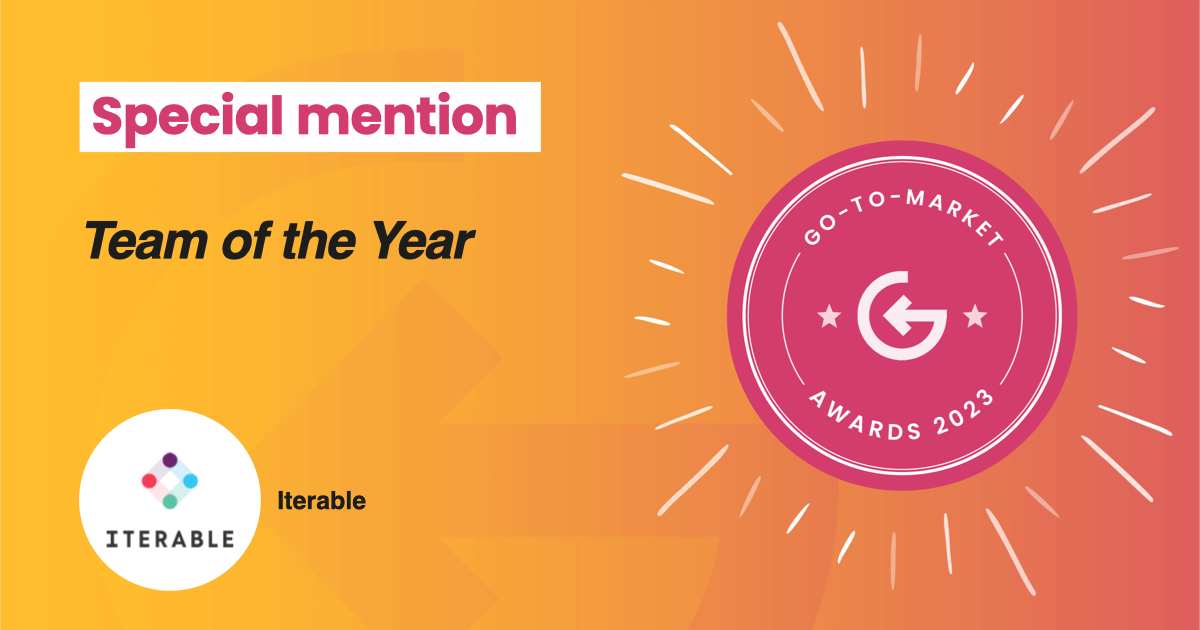 Iterable 

The team at Iterable is small but mighty and, like many other tech companies, has also been impacted by layoffs. This has made the team leaner than ever, with the expectation of doing more with less.
That being said, the team has risen to the occasion and really exceeded company goals, and here are some reasons why they stand out:
Remarkable collaboration - Despite their small size, the team exemplifies the power of collaboration and works seamlessly together, leveraging each other's strengths, skills, and diverse perspectives to achieve outstanding results.

Agile and adaptable approach - The marketing technology landscape is known for its rapid pace of change, and the team has embraced this reality with unwavering agility, and are quick to adapt to emerging trends (i.e. AI), industry shifts, and customer needs.

Customer-centric and results-driven - They prioritize building meaningful relationships with clients, which fuels product positioning, messaging, and go-to-market strategies, resulting in exceptional customer satisfaction and retention rates. They're results-driven and relentlessly focused on achieving objectives.
"I'm so proud of this team - sometimes it's hard to believe what they've been able to accomplish. One of my four direct reports was even selected to go to the President's Club this year out of 800 employees because of her contributions to the company.
"I have worked in Product Marketing for four other tech companies before, and this is truly the most passionate, dedicated, hard-working PMM team I have ever had the pleasure to work with.
"And it shows! We are gaining massive traction with customers (especially Enterprise), analysts, and the market overall, and we would not be able to do that without this team--half of which joined Iterable within the last three months. Truly incredible!"
Michele Nieberding, Director of Product Marketing at Iterable 
A much-deserved honorable mention to Iterable!
---
GTM Leader of the Year Winner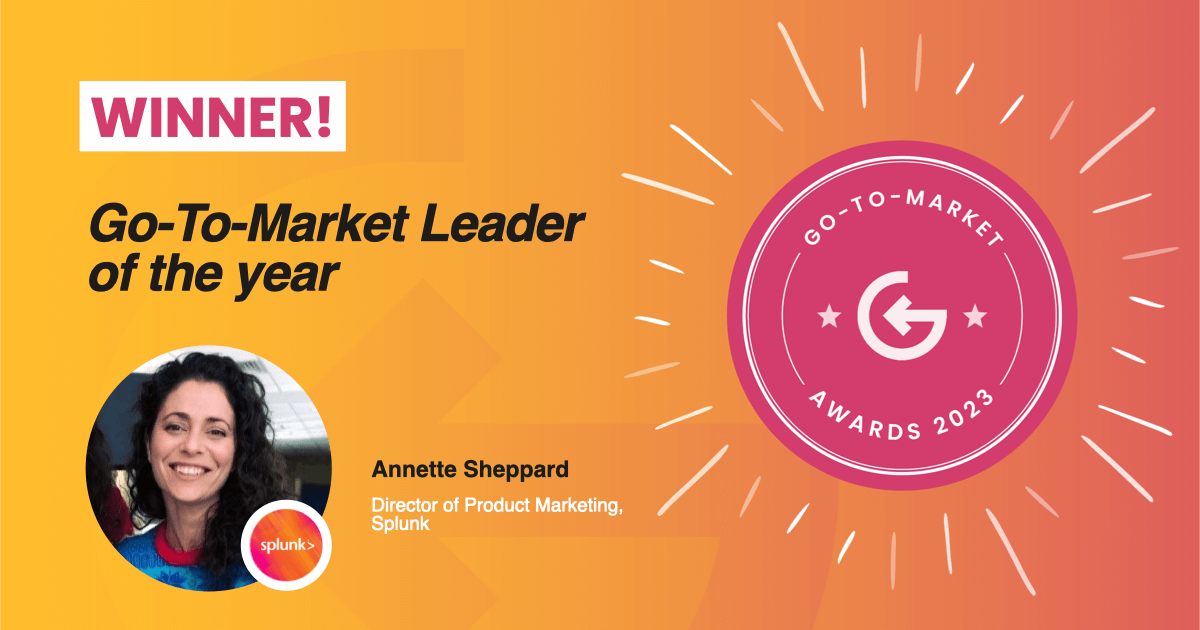 Annette Sheppard, Splunk

A huge congratulations to this year's winner Annette Sheppard,  the Director of Product Marketing at Splunk.
Annette is a passionate, collaborative leader with a bias for action. And who builds coalitions across functions and rallies people around clear, methodical work streams. Thanks to her amazing work on the clarity of messaging and storytelling, Splunk is now a high Visionary in the Gartner MQ for APM and Observability and a Leader in the 2023 GigaOm Radar for Cloud Observability Solutions.
"Annette is a curious marketer who's fearless about taking on new challenges and learning."
Jon Rooney, Vice President of Product Marketing at Unity
A worthy winner, we're sure you'll agree. Take it away Annette...
---
Product-Led Company of the Year Winner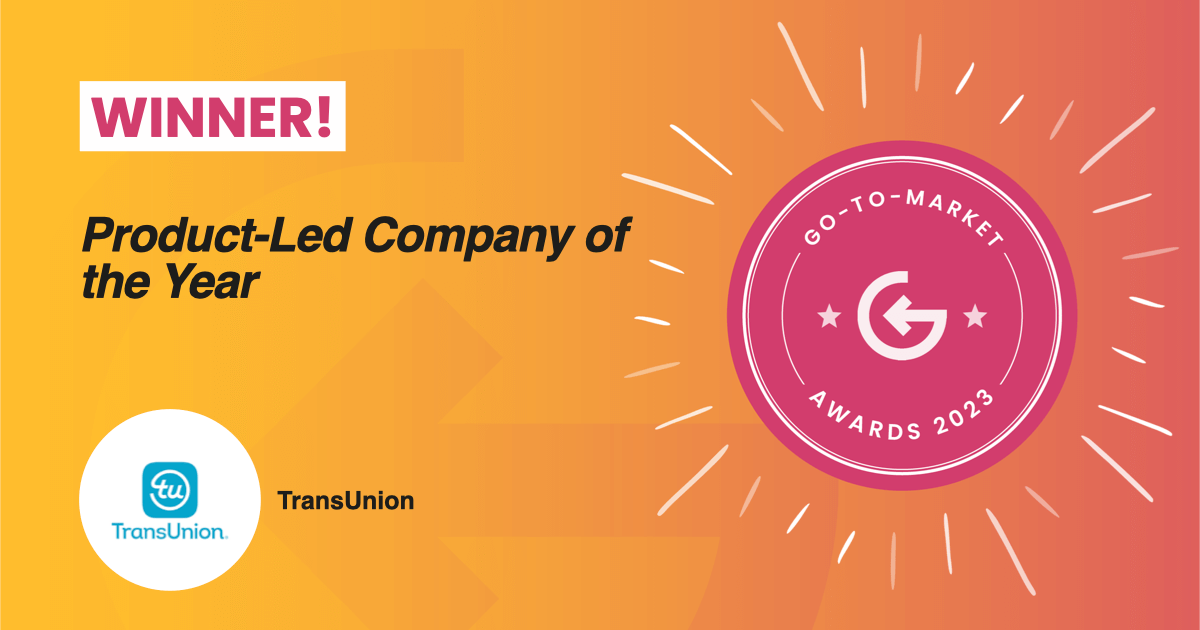 TransUnion

For over five decades, TransUnion has passionately woven trust into every strand of its journey as a credit reporting agency. Throughout these years, they've masterfully navigated and decoded data, building a profound understanding of consumer identity. Their unwavering dedication led them to make substantial investments in novel data sources and cutting-edge technology, propelling the company into exciting frontiers like fraud detection, marketing strategies, and illuminating customer-driven insights.
At this very moment, TransUnion stands tall as a global powerhouse, blazing a trail of confidence across the intricate landscape of worldwide commerce. Their mission? To make trust possible by ensuring each person is reliably represented in the marketplace. They do this with a Tru™ picture of each person: an actionable view of consumers, stewarded with care.
"With so many people and processes involved in the product-led GTM strategy, it is hard to state what we love most. Is it how tapped-in our market development and sales teams are with customer and industry priorities? Could it be the product team's relentless drive to build innovative products that drive our customers' bottom lines and seamlessly integrate into their workflow? Or, perhaps it's our small and mighty team of product marketers who get crafty with right-sized launches. Final answer: All the above.
"Product inspiration is driven by the voice of our customers and industry trends. We have a team of experts whose #1 priority is to track, ask, and address customer needs based on internal blockers or macroeconomic trends. Customer advisory boards are hosted quarterly by industry, and various insight events, customer calls, and innovation labs are hosted on-demand and per request to discover opportunities. Once a prospective solution hits this ideation stage, it's time to roll up our sleeves and activate the GTM process!"
Gwendolyn Smith, Director, Global Product Marketing at TransUnion
What are they doing differently?

TransUnion has embraced a customer-centric mindset with a needs-based approach. They prioritize their customer's needs and address them with this needs-based approach, as opposed to those that follow a one-size-fits-all methodology.
Their systematic yet pragmatic GTM Motion enables the organisation to support product development and launch programs for hundreds of global products simultaneously.

TransUnion has product feedback and launch support from a wide net of focused experts, including product management, global tech, solution consulting, market development, and more.

"When it comes to solution development, we focus on our customers' needs and problems that were worth solving because it directly affects the lives of millions of people across the globe who rely on credit. For example, No one ever thought credit data could leave the credit bureau's environment and be ingested into the customer's own environment. We made it possible with TruIQ Data Enrichment and TruIQ Data Extract. We revolutionized the core segment of the financial services industry and pushed the market leader to change the way they do business."
Gwendolyn Smith, Director, Global Product Marketing at TransUnion
Massive congratulations to TransUnion!
---
Sales-Led Company of the Year Winner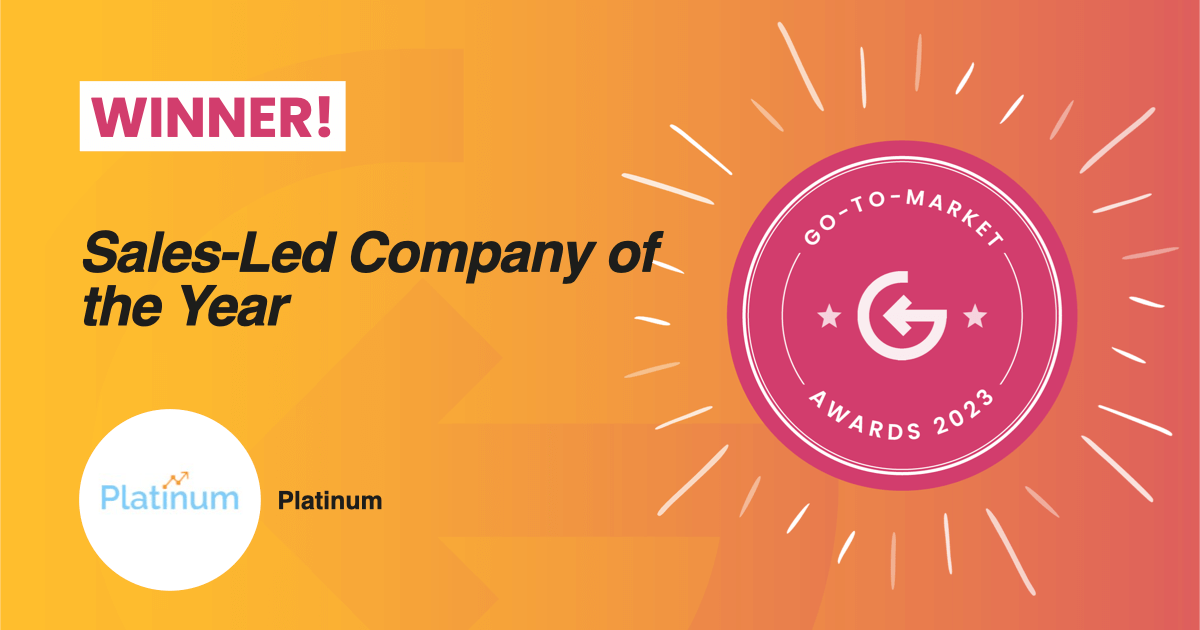 Platinum
The winner of this year's Sales-Led Company of the Year is… Platinum!
Platinum are a result-oriented B2B marketing agency that provides startups with marketing strategy and execution. They approach all marketing with one goal in mind; how to drive revenue.
Unlike the overwhelming majority of marketing agencies, Platinum signs contracts that have compensation tied directly to results. So when clients win, they win. Forget deliverables. It's all about results.
Their vision is to reorient the very existence of how marketing agencies operate, and they believe that the customer's vision, goals, and success are also theirs and aim to celebrate alongside customers as they grow.
---
Content-Led Company of the Year Winner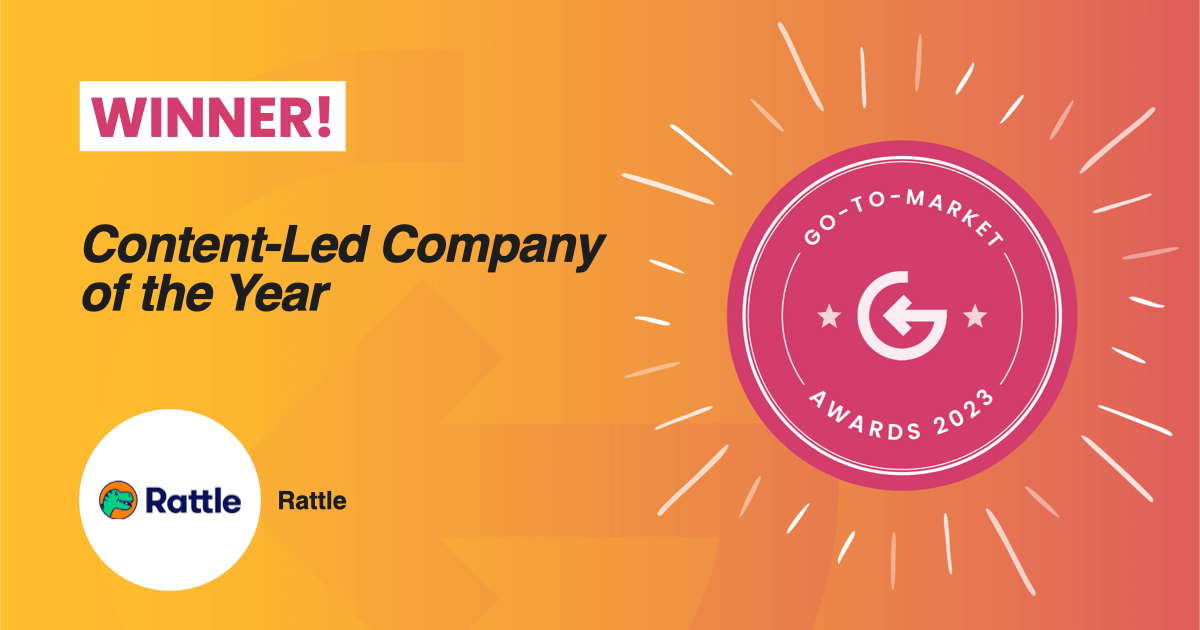 Rattle 

With the advent and aggressive propagation of generative AI, it's become apparent that companies must find a way to get attention, develop a community, and foment a real, memorable kind of love for their brand.
And this starts with stand-out, human, authentic content. Rattle is currently running a masterclass in taking a B2B brand in a traditionally seen as "boring" space - RevOps - and breathing real life into it.
What are they doing that others aren't?

Rattle as a product is a process adherence tool. Meaning, they get salespeople to follow a process. One of the arguments that Rattle makes so elegantly (that nobody in this space has thought to make) is that fun *itself* is a key pillar of getting people to do things for you.
Making a task tedious and boring makes it far less likely to be performed reliably at scale. So, they don't just make fun content, they espouse the notion that fun is something sales leaders need to consider when they're building processes. So, in a way, Rattle doesn't just tell people that it works, they show them how it does.
"This has proven exceptional for us in that it makes sense, comes with plenty of peer-reviewed science, and just makes us more memorable than our competition. Nobody in this space is doing anything close to what Rattle is doing."
Nick Gaudio, Creative Director at Rattle
Congratulations, Rattle!
---
Community-Led Company of the Year Winner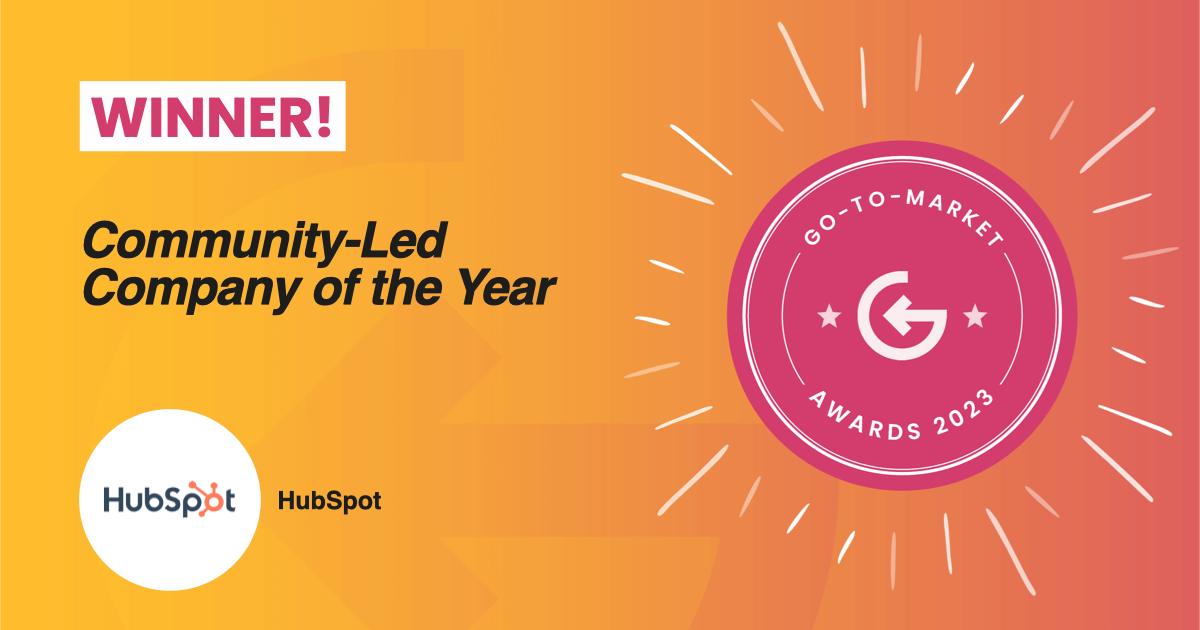 HubSpot 

This award category recognizes the companies who've nailed every element of the community-led approach, and Hubspot has done just that!
HubSpot continues to be at the forefront of new strategies and approaches to growing and scaling in a crowded SaaS space.
Previously, HubSpot transformed the industry from a cold sales-led GTM to an inbound GTM motion, and the company has built a thriving community of users, employees and partners which has culminated into the stage they're at now.
What are they doing differently?

HubSpot is investing more than most companies into community efforts. They actually restructured a team internally to be called the community-led growth team, which brought together all community-facing teams such as partner marketing, customer marketing, academy education, community, advocacy, and more to help narrow their focus and gain efficiencies in solving community-led strategies.
"HubSpot is and has been a leader in this area for a long time. INBOUND, is our annual conference, which is one of the largest and highest-rated community events in the SaaS space. This event has evolved over the years with new stages/experiences that focus directly on our customers and community. We built an entire team of hundreds of employees under our 'community-led growth' org umbrella, emphasizing the importance and creating the right collaboration across community-facing teams.
"HubSpot is investing in our Creator Network, which seeks to collaborate and showcase the best advocates and creators across the globe, our Podcast Network, our Partner Program, which is thriving and driving a large portion of HubSpot's revenue/services, and much more."
Justin Graci, Marketing Fellow and Partner in GTM at Hubspot
Great work, Hubspot!
---
Special mention in this category: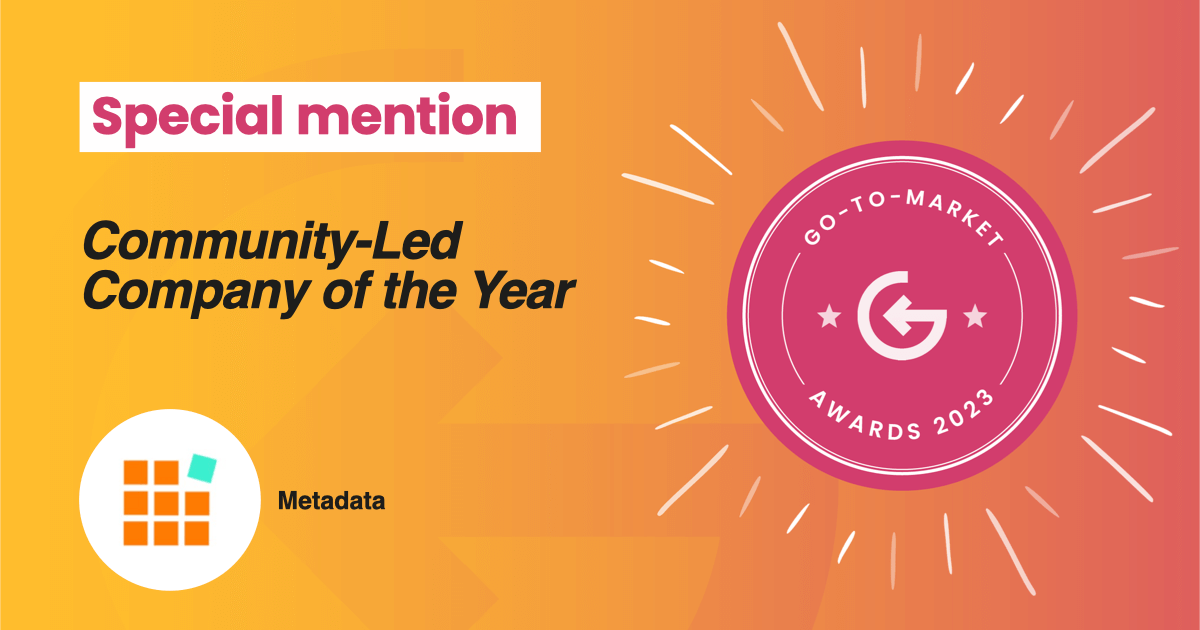 Metadata.io

Metadata.io has made every decision around the community with their community members. They've built it from their recommendations, their community members decided their core values, and their members lead most, if not all of the community-driven events (virtual and in person).
"Knowing that I have the opportunity to consult our members before doing something is amazing and really helps us to build intentionally."
Katie Ray, Director of Community at Metadata.io
What are they doing that's different?

Metadata.io aren't deciding what they think is best or what will work based on their own opinions and ideas - they are truly letting the members drive what content the company puts out, what resources are needed, where they should host events, and more.
The company has also been given the space to build this the right way without rushing through it. They haven't been pressured to produce results immediately, which has helped them create even better results!
"Through our community, our business has grown. We don't pitch or promote inside the community, so seeing this growth has been amazing (like seeing deals close win 29 days faster with community members involved and seeing that they are 46.6% more likely to close win because of members being involved).
"We have been through a lot. Our marketing team has had many, many layoffs and we've been able to remain constant with our growth. While we aren't the largest community out there, we are the strongest. We've maintained an 81.5% response rate with an average response time of 25 minutes. This means that members are getting their responses asap instead of waiting for hours."
Katie Ray, Director of Community at Metadata.io
It's our pleasure to specially mention Metadata.io in this category as one of the best community-led companies out there!
---
Ecosystem-Led Company of the Year Winner
TransUnion

We have a double winner - with TransUnion also securing the spot for the Ecosystem-Led Company of the Year!
TransUnion has hundreds of partnerships across the globe but, due to resource limitations and an ever-growing ecosystem, the amount the time and energy toward each relationship varied, as were the processes and messaging utilized to support and promote them.
Their product marketing team worked to reimagine and redefine their go-to-market strategies and aimed to deliver a better experience for the company's associates, partners, and mutual customers. A "center of excellence" committee was born, and global leaders engaged in a multi-part project to unify and sight-size their partner GTM approach.
Together, they created the TransUnion Partner Product Marketing standard operating procedures, the essential way to deliver exponentially better support to their partners. Within the framework is a tier calculation system used to make an honest evaluation of existing or anticipated partner performance, and then align that tier to suggested joint marketing activities.
To continue to meet evolving customer needs and deliver the best service possible, they've even expanded their partner program to include competing products:
"Only TransUnion is so obsessed with customer satisfaction that we'd proactively forego revenue and transfer business to another provider. TransUnion recently reimagined its partner program to include a category of providers that enable customers to manage their credit marketing decisioning strategies - a capability that directly competes with one of our offerings - to better address their ever-evolving needs."
TransUnion clearly understands a strong partner program is all about building long-lasting and trusting relationships and they're all in for bringing game-changing technology, capabilities, and features to customers at a pace they may not be able to on their own.
"That's why we're proud of our Partner Product Marketing operating procedures, and will stay committed to fostering white-glove relationships with other providers to make our customers' journeys seamless and successful."
Gwendolyn Smith, Director, Global Product Marketing at TransUnion
TransUnion clearly understands a strong partner program is all about building long-lasting and trusting relationships and they're all in for bringing game-changing technology, capabilities, and features to customers at a pace they may not be able to on their own.
"That's why we're proud of our Partner Product Marketing operating procedures, and will stay committed to fostering white-glove relationships with other providers to make our customers' journeys seamless and successful."
Gwendolyn Smith, Director, Global Product Marketing at TransUnion
Another deserved win for TransUnion. Thanks for being awesome!
And that's a wrap 🎉

It's our pleasure to celebrate these passionate GTM professionals and organizations. Congratulations again to all the nominees, those who got honorable mentions, and of course, to the winners!
Our celebration of success has drawn to a close (until next year, at least!)
Thank you so much to all those who sent in your nominations and played your part in helping us bring the GTM Awards 2023 to the masses - without you, this wouldn't be possible.
See you in 2024…