This article is adapted from Sridhar's presentation for the PMM Weekly Live Session, hosted by our sister community, the Product Marketing Alliance.
I'm Sridhar Ramanathan, COO and co-founder of Aventi Group. We're a product marketing agency, and all of our clients are big tech firms. Today, I'll share some common slip ups that I see among a lot of tech companies as they take their products to market, focusing on these five key areas:
Messaging
Content development
Sales enablement
Social media
Channel partner enablement
As we cover each of these five areas, I'll share some best practices and checklists you can take away today to take your go-to-market (GTM) game to the next level.
Let's get started.
Slip-up #1: Poor messaging
A Go-to-Market motion is only as good as its messaging; that's the core foundation. Let me give you an example from a current client of ours. This is the core messaging they used:
"XYZ Corp delivers a new generation of performance improvement solutions for ambitious cardiovascular centers. We help improve quality of care and improve financial performance by taking an engaging, human-centered, and data-driven approach that elevates performance and enables our clients to make care better."
That's a mouthful. I think we can all agree that we could do better here.
This core messaging is off in two ways: one is that the why is missing, and the other is that the who is missing. I'm going to take a moment to go through the why and the who as it's critical to get both of those right in your messaging.

Who are you targeting?
Let's cover the who first. It all starts with an ideal customer profile, which is made up of externally validatable parameters that you can use to target a company, including elements like firmographics, industry, vertical, and geography. All these are externally verifiable things, whereas "ambitious", which we just saw in the example above, is a little subjective. How would you know for sure if a firm is ambitious or not?
The other key piece you need is a persona. You need to identify the exact stakeholder you're after, their job title, pain point, and personality type. This, along with the ideal customer profile, is going to help you bring some rigor to the who.
Why should they engage?
The second piece missing from the messaging above is why someone should engage with our assets. These are five of the most common reasons for engagement, be it a download, share, view, or any other kind of engagement:
To learn something
To be entertained
To get informed
To get a useful tool for work
To get connected with a community
If you keep these motivations in mind, it's going to be much easier for you to write messaging that people actually want to engage with.
Slip-up #2: Content mania
Let's move to slip-up number two: content, content, and more content. Yes, content drives so many things, from demand gen to SEO. The problem is that a lot of tech companies just crank out content for content's sake.
Sometimes this happens because teams take a checkbox approach to their GTM strategy; the product management team says, "Hey, we have a launch coming up, and we need all these assets done in the next 30 days." However, not all these assets are going to perform. Some of them will just sit there with nobody clicking on them, downloading them, or even viewing them. That's a real shame.
The worst sin I see is content being thrown out there without any kind of overarching campaign theme or thought leadership framework. Those themes and frameworks are super important – if you've got a ton of unrelated content coming at you as you're going through the buyer's journey, it just looks like junk.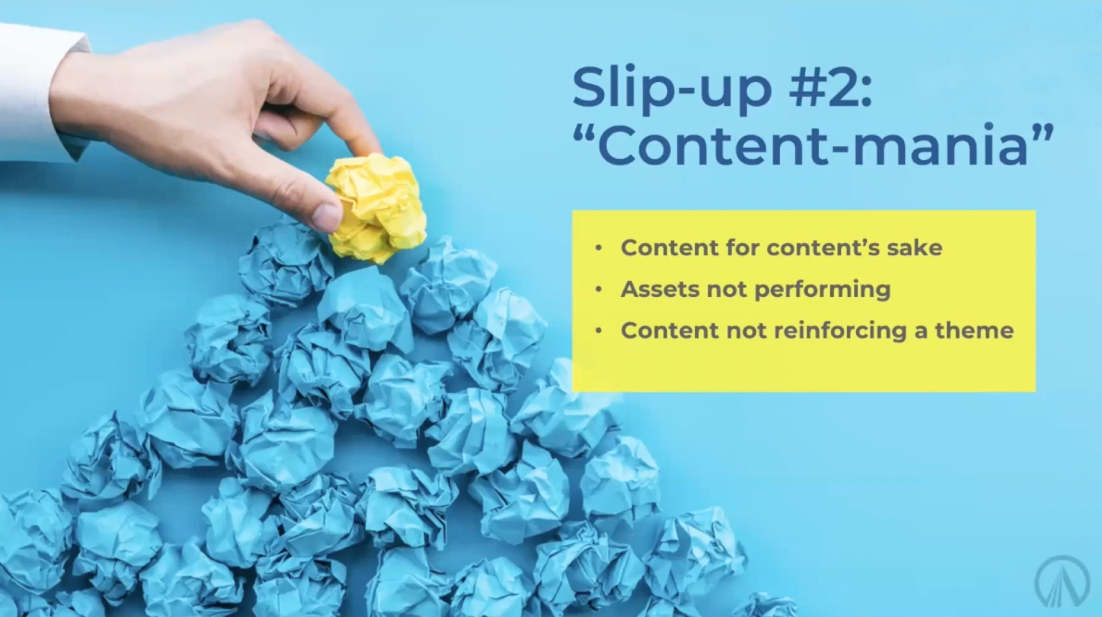 Let me tell you about another former client of ours. We were brought in to just crank out a bunch of content, which we did – 35 assets in six weeks, in fact. We created all kinds of assets – brochures, infographics, analyst briefs, product videos, and more.
The problem is this: we were brought in just to do the content development, not the content strategy. It would really have helped us to know about the buyer's journey, where each content piece fit in, and what critical metrics they were trying to drive. We had no idea about any of that. This is content mania, which you need to be wary of.
The counterargument you'll often hear is that you need to put out tons of content for search engine optimization. That's half-true, but remember that Google's search algorithms place extra weight on engagement. If all these assets are out there and nobody clicks on them or links to them, you'll get punished from an SEO point of view – so thoughtlessly churning out content is not all that helpful.
When you're thinking about your content strategy, be really clear on why you need each asset and where it fits in the buyer's journey. If your aim is to drive awareness at the top of the funnel, for example, create educational, informative, and entertaining thought leadership pieces to gain traction with your prospects. Further down the funnel, at the decision-making stage, product demos and explainer videos might just help nudge prospects in the right direction.
So you don't have to just take my word for it, I want to share an awesome benchmark study from the Content Marketing Institute. They asked B2B marketers for data on what content works best in terms of views, likes, downloads, shares, and a range of other performance metrics. Here's what they found:
Top five B2B content assets
Virtual events
Webinars
Research reports
Short articles
Blog posts
Bottom three B2B content assets
Print magazines
Podcasts
Livestream content
Let's start with the good stuff. Virtual events were among the top performers. Now, I'm not talking about just any kind of virtual event – I'm talking about educational and informative industry events. Think Gartner's IT Symposium and the #GTM23 Festival. Those kinds of events are great for driving engagement. One caveat: these virtual events should be industry-oriented, not vendor-oriented – those ones don't do all that well.
Research reports are super popular too. You could, for instance, sponsor an analyst report, create your own, or commission a study. In any case, your report should be educational. Blog posts are also really well-consumed.
It's no surprise that print magazines are among the bottom performers – print's not so hot these days – however, what I was surprised to see down there with them were podcasts. Another surprise was videos; they ranked in the middle in terms of usefulness.
Whatever kinds of content you decide to create, first take just 30 minutes to do a creative brief. That will help you focus on some of the things that we've been talking about – who you're targeting and what they're interested in.
You'll also want to define the emotional grabber in your creative brief. Think about why people click on certain videos and posts – they usually do it for emotional reasons. In your creative brief, call out the emotion you're driving for. In the case of cybersecurity, one of the emotions we hear about a lot is fear. Meanwhile, for an HR product, you might want to paint an inspiring vision of the future.
There are other nuts and bolts in the creative brief, like what exactly this asset is, how it will be used, where it fits into the buyer's journey, the core message, and of course the call to action. It's important to get all these details right, so make sure you include them in your brief.
Slip-up #3: Slapdash sales enablement
A big part of go-to-market is sales and for our purposes, sales enablement. Playbooks are an especially popular deliverable, but sometimes they miss the mark. Let's look at an example from one of our clients, a cybersecurity company.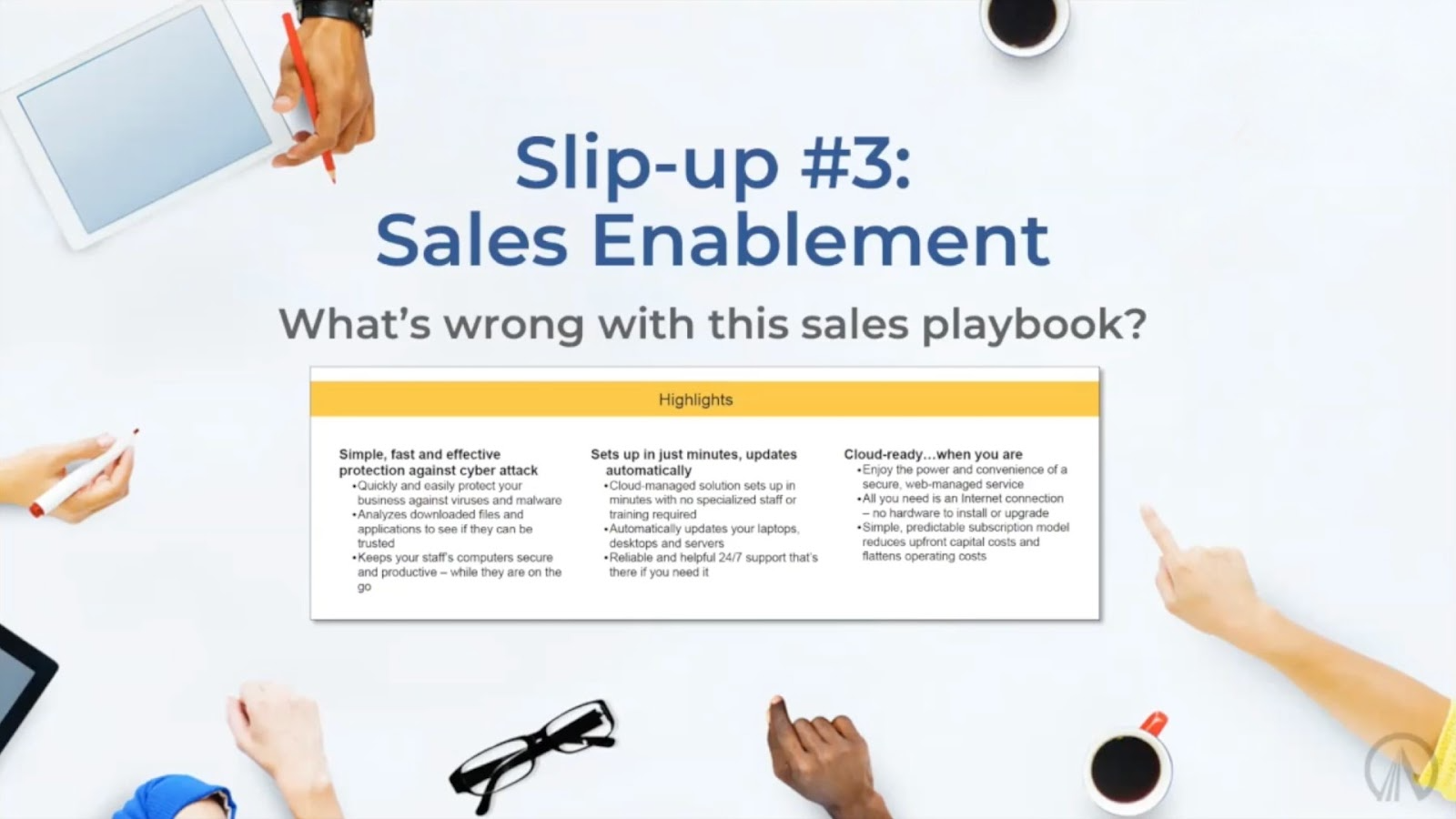 In the example, there are three messaging pillars:
Simple, fast, effective protection against cyber attacks
Sets up in minutes
Cloud readiness
The issue is that virtually all cybersecurity companies talk about these same things. Not only is there no differentiation, but there are also no proof points. In short, this playbook is not going to help your sales team sell your product in a way that makes it stand out from the crowd. If you're going to do a sales playbook, do your sales folks a favor by giving them something specific and differentiated.
To help you hit the mark with your sales enablement assets, here are some more common misses you want to avoid:
Too long; didn't read (TL;DR): Sales reps have neither the time nor the desire to read long prose and tiny fonts.
Marketing hype: Sales reps don't appreciate superlatives and adjectives. They just want the facts so they can prepare for prospects' questions.
Weak objection handling: The best sales reps are consultative. You can help them lean into that consultative role and build credibility with prospects by providing them with clear objection-handling messaging and techniques.
No competitive traps: Help your sales reps shine a bright light on competitors' weaknesses by equipping them with talking points that will spur the prospect to explore those weaknesses.
Out-of-date competitive intelligence: New competitive intel becomes obsolete very quickly, so you need to refresh your material at least once a month.
Treating SDRs, ISRs, AEs, CAMs, and renewals specialists the same: All of these roles deal with different types of deals and customers, so they need different materials.
On the other side of the coin, here's a checklist for you to take away of the seven things sales reps value most:
Scannable content
Discovery questions
Content that answers the questions "Why?" "Why now?" and "Why us?"
Objection handling
Setting competitive traps
Up-to-date info
Clear calls to action
Slip-up #4: Sub-par socials
Let's get into social media with an example from a client of ours whose social media was a little off track. You can see their ad below. The problem is that everyone advertises like this. That's totally fine – just don't expect much engagement.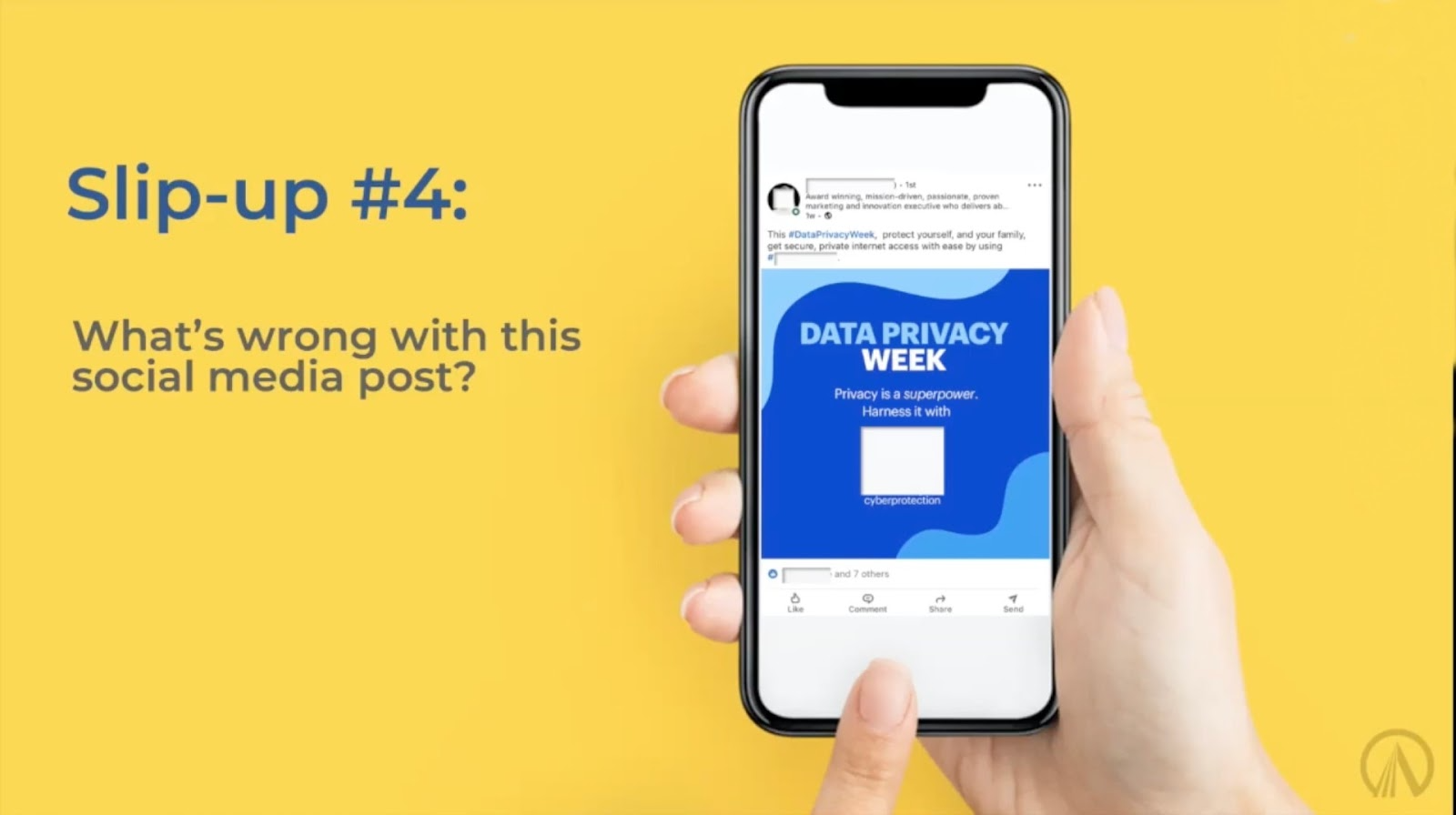 So what would be a better way to use social media? Well, social media is social – why not take advantage of that? Here are four best practices to help you use social media to its full potential:

If you want someone to play in your sandbox, play in theirs: Find out who your industry's leaders and influencers are, see what they're tweeting or blogging about, and leave sincere and authentic comments.
Approach everything from your customer's perspective: It's not all about us as vendors – it's about the customer or prospect. What are they interested in seeing?
Add value: Everything you're putting out should inform, educate, entertain, or inspire.
Listen, listen, listen: Social media is about listening, not just talking, so see what people are talking about.

Slip-up #5: Underwhelming channel partner enablement
Sales drives a ton of business through and with channel partners. Let's take a look at an example of a channel partner webpage. It's divided into two levels: select partner and advanced partner. The problem is that there's no detail about what's in it for the prospective partner, so why should anyone bother to engage?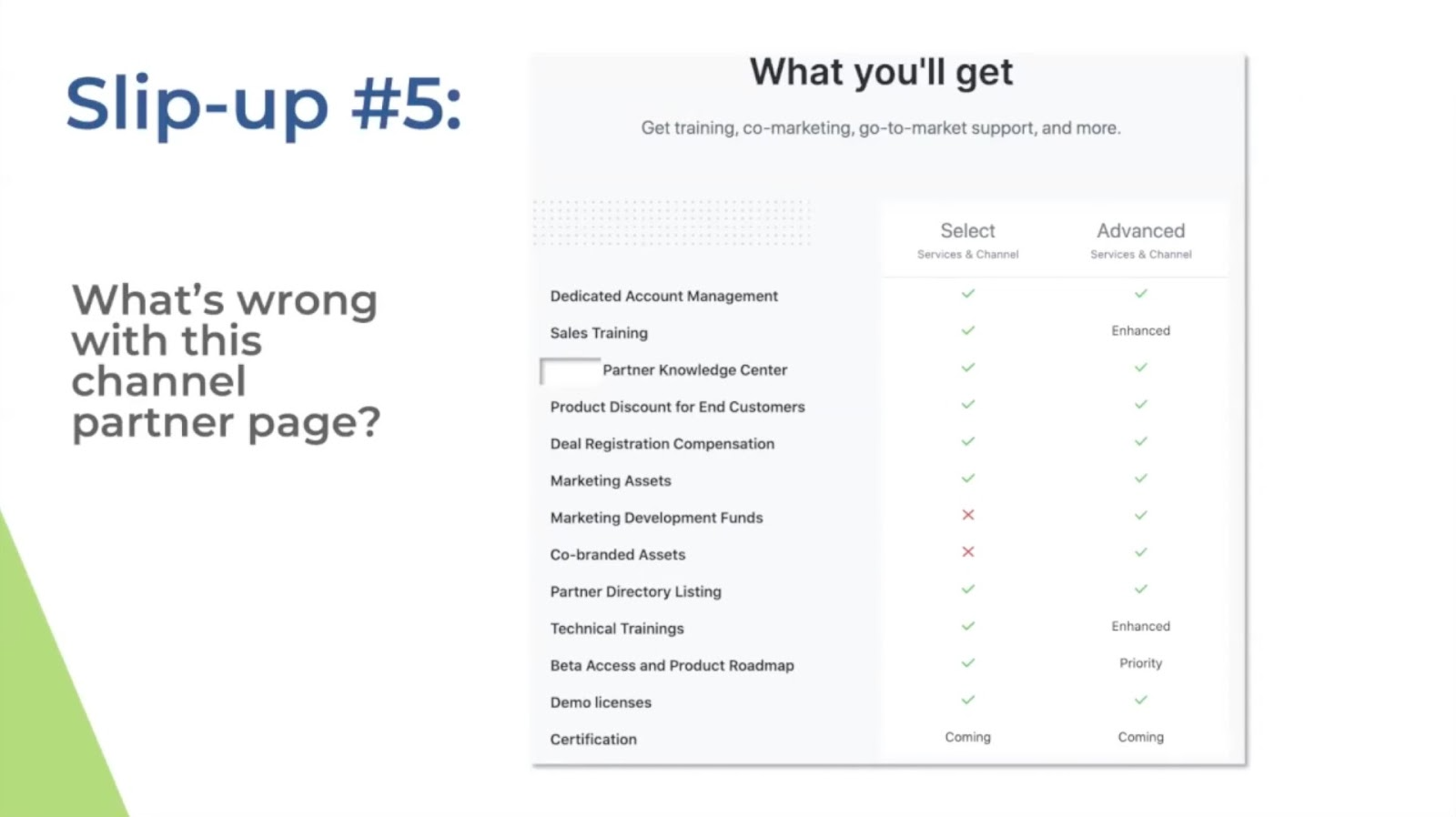 A better example comes from Atlassian. They're doing fantastically at spelling out the "why" for channel partners. They make it clear what partnership opportunities are available and what potential partners will get out of engaging with Atlassian.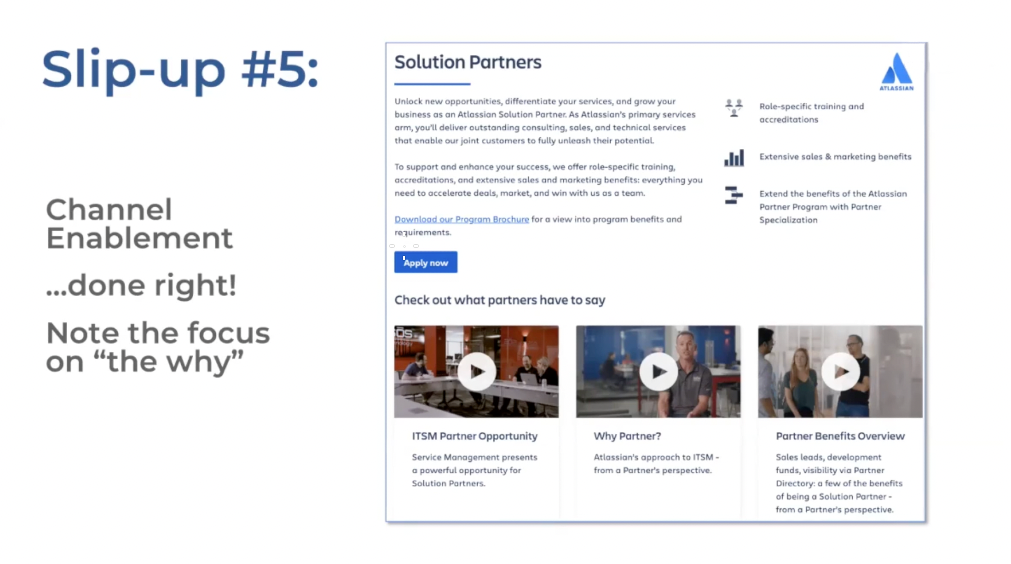 With that in mind, here are five tips for when you're dealing with channel partners:

Nail down the WIIFM: What's in it for your partner? Why should they care?
Tailor your business value proposition to your ideal channel partner: The typical channel partner works with 40 vendors. You need to tailor your business value proposition to your ideal partner in order to stand out from the other 39.
Give to get: Invest in the partner by, for instance, driving leads to them, giving them marketing development funds, or closing the first 10 deals for them. You need to provide some value upfront to build a lasting partnership.
Mentor and educate the partner rep: This is going to make them look good in front of their customers, and ultimately make it easy to do business with you more than the other vendors.
Create mutual accountability: As long as your partner does what they say they'll do and you do what you say you'll do, you and your partner will be able to rely on the results you're both driving.
Time to take your GTM to the next level
Today we've seen five key areas of GTM where we can all improve our game. We're already doing messaging, content, sales enablement, social media, and channel partner enablement. The question is, how do we improve the quality and the quantity of our contribution to each of these areas? I strongly encourage you to try out the tools, tips, and techniques I've shared to take your game to the next level.